Armed Robbery-Ponder Texas (2017/04/08)
On 4-8-17 at approximately 230pm, 2 Hispanic males committed a robbery at JJ Truck Stop located at 17997 US 380 W, Ponder, Texas 76259. Male subjects arrived in an older model white Chevrolet Tahoe, unknown license plate. Vehicle appears to have chrome side rails and chrome front bumper. Vehicle also has black luggage racks on top and has dark tinted windows. 1st Hispanic male is described as being in his mid-20's with dark hair, possibly 5'4-5'7, wearing a blue sweater and dark blue pants. Subject had a blue bandana covering his mouth and had a black Assault Rifle with mounted scope. The assault rifle also had a white cloth like material covering the barrel and hand guards of the rifle.
2nd Hispanic male is described as being in his mid-20's with dark hair, possibly 5'2-5'6, wearing a light in color sweater, and possibly grey pants. Subject had a black bandana covering his mouth and had a black handgun.
Subject's robbed the clerk of her purse and took lottery tickets, cigarettes, and money from the store, and were last seen driving East Bound on US 380 W, possibly toward Denton.
If you have any information please contact Crime Stoppers @ 1-800-388-TIPS (8477) or submit a tip online. You will REMAIN ANONYMOUS! If your tip leads to an arrest, you will be eligible for a Cash reward up to $1,000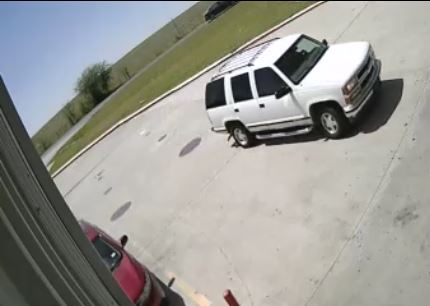 ---
Confederate Soldier Memorial (2015/07/20)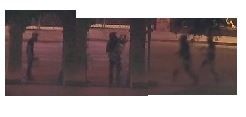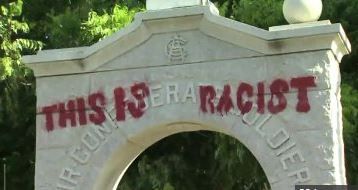 At approximately 0425 hours on Monday, July 20th. Two suspects with red spray paint and large stencils vandalized the Confederate Soldier Memorial located on the south lawn of the Denton County Courthouse square.
Surveillance Video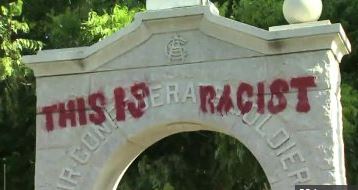 ---
Driver of Hit & Run Vehicle Sought by Denton Police (2013/06/27)
On June 27, 2013 at approximately 2140 hours a 33 year old white female was crossing the street in the 100 block of N. Locust when she was struck by a black pickup or SUV. The victim sustained numerous broken bones and was transported to a local hospital. Witnesses described the suspect vehicle as a small black American made pickup with aftermarket taillights framed in chrome. The suspect vehicle fled the scene north on N. Locust Street. The suspect vehicle should have damage to the front left around the headlight.
YOUR ANONYMOUS TIP COULD EARN YOU UP TO $1000 CASH!!
---
DENTON WHATABURGER ROBBED (2013/06/19)
At approximately 3:21 am., the suspect entered the Whataburger at 1701 Malone St., pointed a pistol at the manager and stated, "I need the money."
Suspect made the second employee lay face down on the floor while he directed the manager to retrieve cash from the register, the drop box, and the safe. After retrieving the cash, the suspect pistol whipped the victim. The suspect told the employees to "count to 25." The suspect fled to the north of the restaurant into a nearby neighborhood. He was last seen running westbound on Amherst St.
Suspect descrbed as a white male, age mid 20's, between 5'7" to 5'11" tall, thin build, possibly 165-175 lbs, short dark hair (2 inches in length), clean shaven face, black hooded sweatshirt, black pants, black Vann's brand slip-on shoes (no laces), small black backpack, draw string type,with white Nike Swoosh emblem and white lettering "Nike" under the emblem, gloves. He carried a black handgun in his right hand
---
Compass Bank in Lewisville Robbed (2013/06/13)
On June 13, at approximately 11:00 a.m., the Compass Bank located at 484 East Round Grove in Lewisville was robbed.
The suspect is a black male, 5`10", 170,
wearing blue jeans and a green hat.
Anyone with information is asked to call Denton County Crime Stoppers at 800-388-TIPS(8477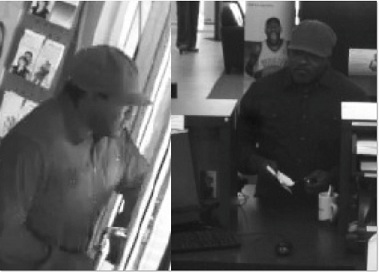 ---
BANK ROBBERY IN LEWISVILLE (2013/05/31)
The Lewisville Police Department is asking for the public's assistance in identifying a person who robbed the Bank of the West at 329 West Main Street on Friday, May 31.
The unknown suspect entered the bank at approximately 10:00 a.m., displayed a note and demanded cash. The suspect fled the bank in an unknown direction.
Detectives believe the suspect is a black male, 5'00"-5'02", slim-medium build, with a dark complexion. He was wearing large sunglasses, jeans, and a long-sleeve button up shirt. Please note the unique markings on his cap.
Anyone with any information on this robbery should contact the Lewisville Police Department at 972-219-TIPS (8477) or Denton County Crime Stoppers at 800-388-TIPS (8477).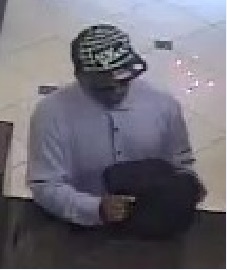 ---
AGGRAVATED ASSAULT SHOOTING (2013/05/30)
This offense occurred in the 600 block of Cordell in Denton. The victim was at home when there was a knock at the door. When the victim answered the door he found a male who requested assistance with a disabled vehicle.
The victim stepped out to speak to the suspect and was shot. The suspect fled the area.
Suspect: Hispanic male, approximately 18-20 years of age, 5'7" to 5'11 or medium height, thin but toned in build, short possibly buzzed dark hair, clean shaven wearing a "snap back" flat billed ball cap that is black on top with a logo and a blue bill, baby blue tank top shirt, black shorts and black shoes. The suspect spoke in Spanish.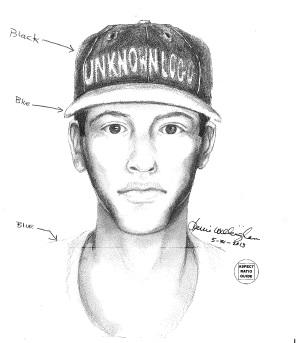 ---
Ehrhart's Jewelers Robbed (2013/05/04)
On 5-4-13, at approximately 1143 hrs, two unknown black males entered Ehrhart`s Jewlers (260 S. IH35E) with a firearm. While one of the suspects controlled the employees, the other suspect smashed the display cases and stole the jewelry inside. The third suspect (driver) was initially buzzed into the business door. This suspect then held the door open while the two other suspects exited the suspect vehicle and entered the business. The third suspect returned to the suspect vehicle and prepared the vehicle for fleeing the scene (re-positioning the vehicle towards the parking lot exit).
Suspect Vehicle Description:
2012-2013 Red Buick Enclave, possibly with temporary tags in the back window. Both front and rear license plate had placards for "Classic Chevrolet", but no actual license plates in place.
This vehicle was later found abandoned, h
owever, the three suspects are still at large.
All three suspects are approximately 5'9 to 5'11. The suspect with the pistol is a slim build and the suspect with the hammer is a thicker/stockier build.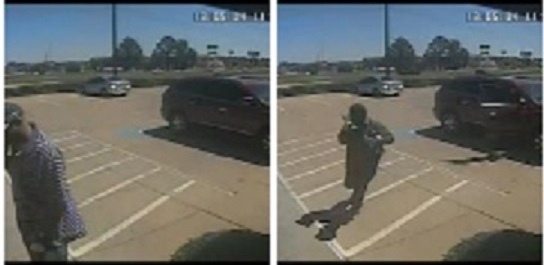 ---
Suspect with handgun (2013/05/04)
Ehrhart`s Jewelers Robbed - con`t.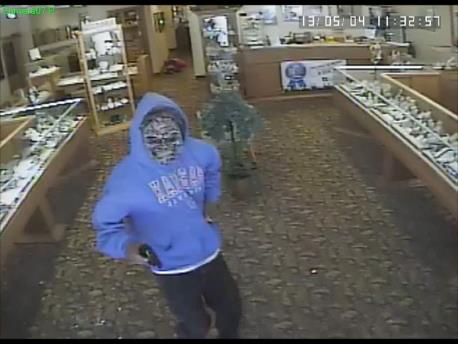 ---
Robbery Suspect Sought in Denton (2013/04/09)
Denton Police need your help in identifying the person who robbed the Subway sandwich shop at 1720 W. University at approximately 11:53 pm on April 9, 2013.
The suspect entered restaurant and pointed a small black handgun at the employee, ordering him to open the cash drawer. He directed the employee to put the cash in a Subway bag. Suspect fled to the east on foot.
Suspect: White male, possibly in his 20's, 6'2" to 6'3", thin to medium build, black hooded sweatshirt, plain black bandana covering lower half of face, no gloves.
Suspect could be the same suspect who attempted a robbery at a Denton CiCi's Pizza on Sat., March 23rd. Suspect in that case had similarly described race, height, build, and M.O. The suspect of the CiCi's attempted robbbery had blue eyes and wore a dark green hooded jacket and mask. A suspicious vehicle was seen in the area shortly before that offense. It was described as a white Ford Sport Trac with a black bed liner insert and a full-width black grille or brush guard on the front. It had the older style Texas license plates.
---
Lewisville Police are investigating a reported sexual assault (2012/12/31)
Lewisville Police are investigating a reported sexual assault that occurred at approximately 7:30 p.m. on December 31, 2012. The assault took place at L.L. Woods Park, in the 1000 block of Arbour Way.
A 32 year-old female stated that she was jogging around the park when confronted by two males who were hiding behind a tree. The victim said she struggled with her attackers but was knocked unconscious. She described the attackers as white or Hispanic and in their late teens or early twenties.
Anyone with information on this crime is urged to contact Denton County Crime Stoppers at 800-388-TIPS (8477) or submit a tip on this web site.
---
ATTEMPTED ROBBERY AT SONIC ON UNIVERSITY (2012/12/26)
On 12/26/12 at 22:16 hours, two male suspects approached the manager of Sonic (1815 W. University) after he walked to his parked vehicle. The suspects each displayed weapons as the first suspect pointed a black semi -automatic handgun and stated, "Give me the bank bag." When the manager did not cooperate, the first suspect stated to the second suspect, "Tase him." The second suspect attempted to strike the manager with an arcing stun gun but he was unable to make contact with the store manager. Another Sonic employee who was in the vehicle dialed 911 and the suspects fled on foot as they apparently heard the caller speaking to police dispatchers.
Suspect 1
A thin white/Hispanic male approximately 6 foot tall, 150 pound, between 16 and 21 years of age and a thin mustache over his upper lip. The suspect spoke English well, but had a Hispanic accent. He wore all black clothing to include a three holed ski mask, shirt, a heavy jacket with long sleeves that tapered at the wrists, and black pants that were possibly Docker style slacks. He may be left handed.
Suspect 2
A stocky white/Hispanic male between 5'06 and 5'08 tall, 150 to 160 pounds, 16 to 21 years of age. He wore a black ski mask covered partially by the hood of a black hoodie that had no zipper but a single elongated pocket. His pants were also black.
---
ARMED ROBBERIES IN DENTON (2012/10/19)
The pictured individual was involved in two separate business robberies on 10/19/12. In both instances he displayed a small black in color handgun and demanded cash from the register. The subject fled on foot and no vehicle was seen.
Offense #1: 10/19/12, 3:23am Location: 116. W. University Dr. (CVS Pharmacy)
Offense #2: 10/19/12, 10:55pm Location: 2124 Sadau Ct. (Taco Bell)
Hispanic Male, 20-25 yoa, approximately 5'-08", average build (160-170lbs) with a slight "Belly", short dark hair "Faded" on sides.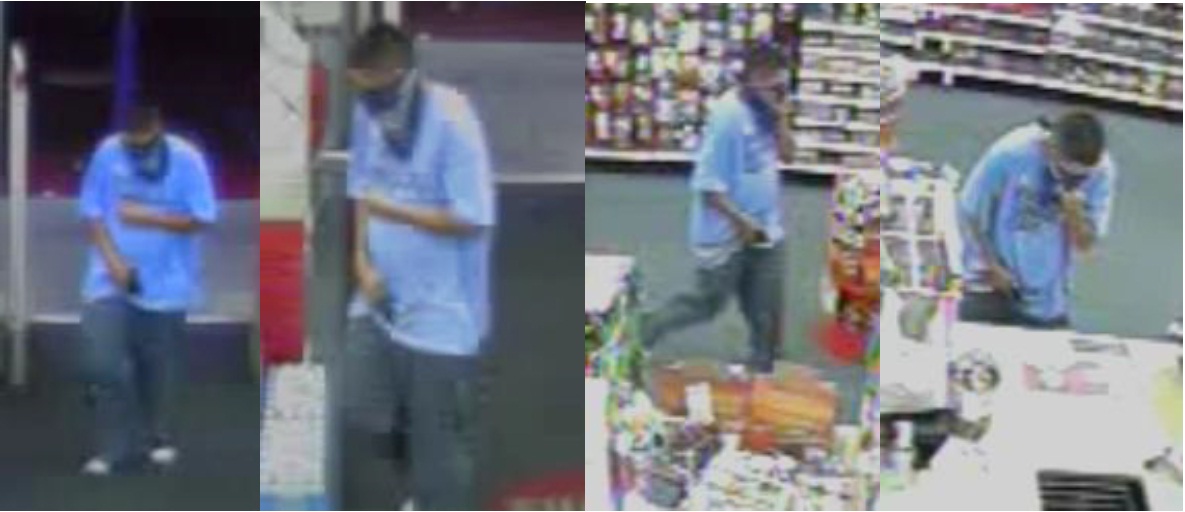 ---
AGGRAVATED ROBBERIES IN DENTON – FEMALE VICTIMS (2012/10/16)
10/09/12, 11:53 PM 2601 W. Oak St (Uptown Apartments)
10/15/12, 12:17 AM 201 Coronado Dr (Country Place Apartments)
The below described suspects are believed to have been involved in two separate Aggravated Robberies that occurred within the City of Denton on 10/09/12 and 10/15/12. In each instance the suspects have targeted females in apartment complex parking lots while they were alone and seated in their vehicles. Both incidents occurred around Midnight.
The suspects appear to have been hanging around the complex parking lot. Residents and guests are urged to be aware of their surroundings while exiting or approaching vehicles. The Denton Police Department requests that citizens report any suspicious activity involving persons matching the description below by calling 940-349-8181 (option #9). These subjects may be "Loitering", as there are indications that the suspects are merely waiting for an appropriate target/opportunity to commit their crime. The suspects were reported to be armed.
Suspect #1: Black Male, 20-25 yoa, approximately 6' tall, thin-build, short hair, clean shaven.
Suspect #2: Black Male, 20-25 yoa, 5'-09" to 6' tall, heavy-set or thick build, short hair, "Pudgy" face, clean shaven.
Weapon: Unknown make/model semi-auto style handgun
Denton County Crime Stoppers will pay a reward of up to $1,000 for information leading to an arrest in this crime. Callers will remain anonymous. Call 1-800-388-TIPS (8477) or submit a tip on this web site.
---
ID THEFT SUSPECT WANTED IN DENTON (2012/10/01)
The pictured subject used identifying information belonging to a Denton resident to withdraw $9000 from the victim's DATCU bank account. Victim reported his wallet was stolen while at a Texas Rangers game on August 26, 2012.
Subject used a counterfeit ID containing the victim's identifiers and suspect image to facilitate the withdrawal.
Suspect identification assistance is requested.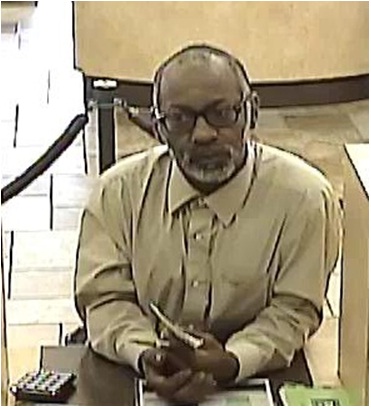 ---
HVPD SEEKS INFORMATION REGARDING VEHICLE BURGLARIES (2012/09/28)
The Highland Village Police Department is seeking information regarding the suspect responsible for numerous Vehicle Burglaries in their city
between September 23rd and September 28th. These offenses occurred first in the Briarhill area of the city and later moved to the far east side of Highland Village near the eastern border with Lewisville. In all cases, there were no signs of forced entry and it is believed that the vehicles were left unlocked. The suspect took small, easy to carry items such as GPS units, radar detectors, loose change, wallets and purses.
During one attempted offense, a home video system captured images of a possible suspect. The suspect is a white male, late teens/early 20's, short hair, glasses, 5'7 to 5'10, 160-lbs. He was seen driving a small pickup which he parked in front of a residence, he then walked to a parked vehicle and tried the door handle. When the door didn`t open, he moved down the street.
It would appear that the suspect parks his vehicle and proceeds on foot to the various vehicles parked in driveways and on the street. In all cases, small items were taken while larger, hard to carry items were left behind.
Denton County Crime Stoppers will pay a reward of up to $1,000 for information leading to an arrest in this crime. Callers will remain anonymous. Call 1-800-388-TIPS (8477) or submit a tip on this web site.
---
HOMES REPORTED BURGLARIZED IN ROBSON RANCH (2012/05/10)
The Denton Police Department is seeking information regarding the person(s) responsible for breaking into homes in the retirement community of Robson Ranch. On May 6, 2012, unknown person(s) attempted to gain entry to a residence in the 10000 block of Countryside by prying the back door open. The intruders were apparently scared off when the burglar alarm sounded.
On May 10, 2012, the back door of a residence in the 9500 block of Freeport Dr. was discovered pried open. Entry was made by unknown person(s) and a substantial amount of jewelry stolen.
IF YOU HAVE INFORMATION REGARDING THESE TWO CRIMES, PLEASE CALL DENTON COUNTY CRIME STOPPERS OR SUBMIT A WEB TIP ON THIS WEB SITE.
YOUR TIP COULD EARN A $1000 CASH REWARD!
---
Chainsaw Murder Suspect Still At-Large (2012/02/02)
Denton County Crime Stoppers is offering a $5,000 cash reward for information leading to the arrest of Jose Fernando Corona. Corona is accused of killing his wife by decapitating her with a chainsaw on April 26, 2010 at their home in Lewisville, Texas.
You can make an anonymous tip by contacting 1-800-388-TIPS (8477) or submit an online tip on this web site.
El Condado de Denton "Alto al Crimen", ofrece la cantidad de $5,000 dolares en efectivo por la informacion que lleve al arresto de Jose Fernando Corona que es acusado por el asesinato de su esposa, el incidente ocurrio el 26 de Abril del 2010 en su residencia en la ciudad de Lewisville, Texas.
Puede hablar al telefono 1-800-388 Tips (8477) o en la pagina web-site "web tip" www.dentoncountycrimestoppers.com.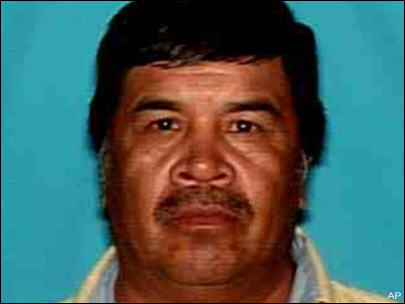 ---
DENTON POLICE SEARCH FOR MURDER SUSPECT (2011/10/17)
Arrest warrants has been issued for a man who stabbed two victims outside a bar on Eagle Drive early Sunday morning, leaving one of them dead at the scene.
Warrants for murder and Aggravated Assault have been issued for 19 year old Daniel Eduardo Roman-Ramirez, a Hispanic male who is described as being approximately 5'5", with a medium build.
If you know the whereabouts of this fugitive, your anonymous tip could earn you up to a $1,000 cash reward.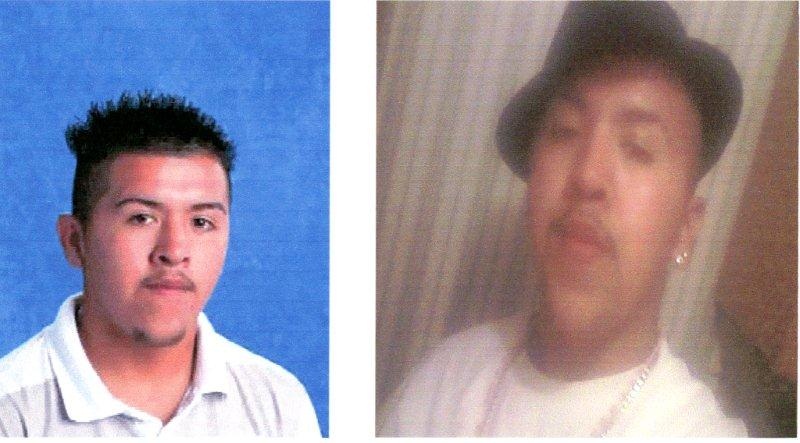 ---
Act of Animal Cruelty (2011/08/05)
On 08/05/2011 between 8:PM and 9:PM, an 18 month old Jack Russell Terrier named "Raider" was playing it`s own back yard when someone fatally shot the small family pet with what appears to be a pellet from an air type rifle.
This criminal offense occurred in the 1800 Block of Warwick Crescent Court, Hills of Argyle, Denton, Denton County TX.
Anyone who has information regarding this criminal offense is urged to contact Denton County Crime Stoppers or leave a tip on this web site.
---
| | | |
| --- | --- | --- |
| Page 1 of 2 | 34 Records | Prev | Next |